Climbing and via ferrata
Climbing paradise
In Sant Llorenç de Montgai and Camarasa you will find some of the oldest climbing areas in Catalunya. These areas, all together with Santa Linya, Cubells, Tartareu, Vilanova de Meià, Terradets, … offer a wide variety of open climbing roads; from the shortest ones without difficulty ideal for beginners, to the most complicated for experts.
In Sant Llorenç de Montgai, the majority of walls are located in valleys with south orientation, is for this reason that climbing routes are in optimal conditions during autumn, winter and spring. In Camarasa, the tracks have a north-west orientation and are therefore perfect for summer mornings.
The Cova Gran de Santa Linya is the jewel of the area. A 40m high with more than 60 tracks above 8b grade. Only suitable for experts.
Scale without stopping!
Sant Llorenç de Montgai
Camarasa
Santa Linya
Cubells
Alós de Balaguer
Tartareu
Àger
Terradets
Vilanova de Meià
Mont-Roig
La Pauta
You can find a lot of information about the climbing sectors in these three climbing guides:
Lleida Climbs
Ed.: Pod Climbing; Ed.: 3
ISBN-13: 978-0956700650
Roca España
Ed.: Lobo Edition
ISBN: 978-3934650121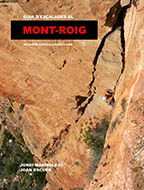 Guia de escalada al Mont-Roig
Ed.: Geoconsultores Téc. y Amb.
ISBN: 978-8461676675
Via ferrata
This adventure sport is for nature lovers who do not know vertigo.
In Sant Llorenç de Montgai and in Camarasa you will find two via ferrata:
"Cágate Lorito" (K6) the closest to the campsite! Only suitable for the most experienced.
"Topí del Conill" (K1) ideal for a first contact with this modality.
In addition, in Àger Valley there are six more via ferrata (levels K2, K5 and K6), all located in the village of Corçà, near the beautiful hermitage of the Mare de Déu de la Pertusa.
Hire the activity with a specialized company, we recommend:
Scroll to top