Restaurant
Restaurant
Homemade Catalan and Mediterranean cuisine made of seasonal and locally sourced ingredients.
Our extensive menu offers a dish selection made of typical products of our region always with the Chef´s modern distinctive touch. Our cuisine intends to keep the traditional tastes as well as adding new gastronomic tendencies.
During the week we offer daily menu and dishes à la carte. Starting from Friday night, Saturday and Sunday, we have carte service with snacks to share, starters, and a great choice of meat and fish.
We emphasize the service, as always with a big smile and hospitality, we are attentive to the requirements of intolerances and allergens. We also have a children's menu for the youngest, as well as options for vegetarians and vegans.
Cuisine
The chef specials include "Caragols a la llauna" (snails accompanied with local wine and cava), roasted shoulder of lamb and grilled steak.
Our wine selection combines local wines with well recognized demarcated regions wines.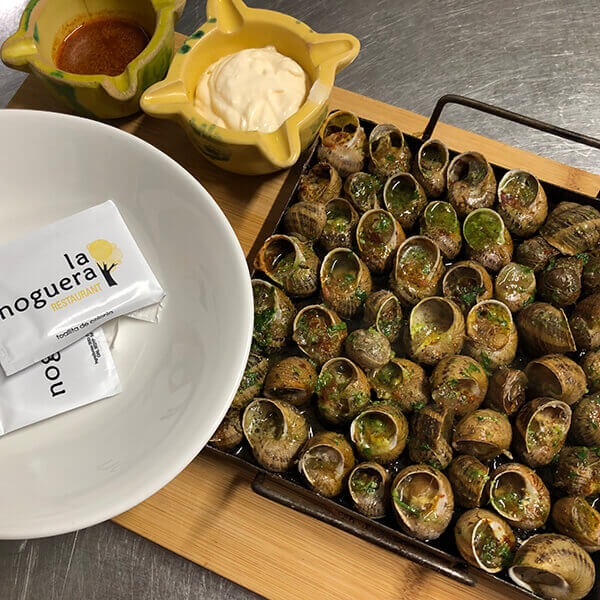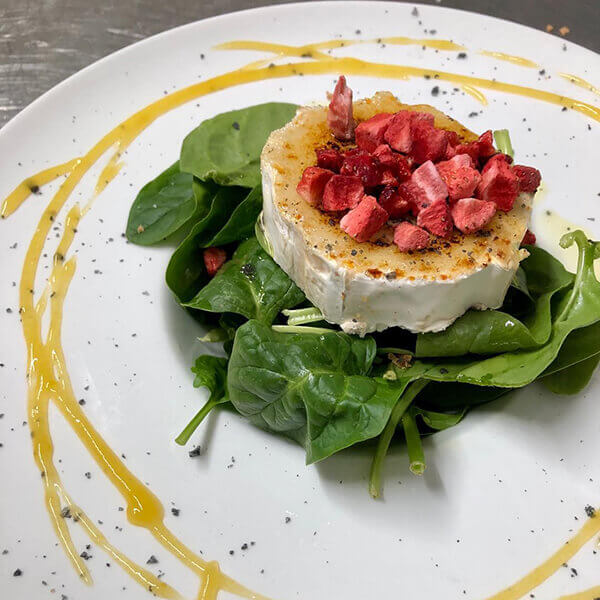 Honey cuisine
Because of Montsec´s natural characteristics it has turned into one of the biggest honey production territories of Lleida. Honey has always been present in the region´s cuisine but recently this traditional product has drawn the attention of innovative chefs that found honey to give a new texture and sweetness to the typical gastronomy. This gave a perfect balance between the traditional honey cuisine and the new kitchen tendencies.
Furthermore, honey has proven to be beneficial for our health. For this reason, La Noguera invites you to discover the new tastes of the honey cuisine.
Our dishes:
Foie gras and cured duck ham salad with honey vinaigrette
Duck leg with citrus fruits and honey sauce
Honey salt cod
Celebrations
Anniversaries, family reunions and among friends, are celebrations that are not repeated every day. For this reason, it is important to organize and customize every detail of the celebration to be perfect.
We give here the opportunity to make these meetings to a familiar, friendly and above all, lovely surroundings with exceptional views to the Swamp of Sant Llorenç de Montgai.
Contact us to organize the celebration.
Terrace
Furthermore, the restaurant also has a terrace overlooking the swamp of Sant Llorenç de Montgai. This terrace is equipped with four large umbrellas creating a pleasant atmosphere for those sunny days. The convenient location of these terrace is perfect to watch the little ones of the house while playing in the playground outside.
The opening hours during high season is from 9:00 to 24:00 hours.
Free wifi zone in the restaurant and terrace
We prepare dishes to take away
Scroll to top